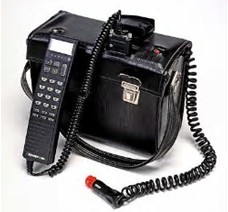 Since 1984, when I was told I needed to carry this mobile phone with me, there has been that nagging issue of needing to make sure it had enough life to get me to the next charge point.  My first phone was luck if it could last a half a day so they gave me two, one was always being charged while the other hung on my shoulder.  In 1993 while working on the development of the EMV Specifications we focused on the ability to authorize a transaction when the Point of Sale POS device was unwilling or unable to reach the issuer.  In 2013 I listened to Visa representatives explain how 100% of all payment transactions could be executed online.  Then I ponder getting a Tesla Model 3 and learn it is only capable of traveling a maximum of 310 miles, it make me wonder; how do I finish the last 19 miles to my fathers home.
Today, I was reading an article emanating from the Money 2020 event when IDEMIA spoke of the idea of the mobile drivers license and that nagging feeling emerged.  What happens when the power goes off after the hurricane hit and someone asks me for my drivers license.  Its locked securely inside my dead mobile phone.  I then saw that their competitor Gemalto and even NIST are working on this concept of the mDL.
We live in a world where electricity is becoming as essential as water and food.  Yet, we hear of power outages that last weeks and even months.
It is like with Mobile Payments, if the phone is dead and in order to pay it must, then what? 
The card remains the essential element of a successful payment transaction.
I dream of the day when I can merge my leather wallet and my mobile device into one.  Yet, I appreciate there are technical challenges like the need for electricity.  Until we lead with these technical challenges and not simply the dream.  Exciting concepts and ideas will go where so many have gone before.