Today, I am:
An Advisor to a company revolutionizing the way we participate in the democratic process of governance
A Subject Matter Expert in the field of payment schemes, systems, and technologies
A product evangelist and public speaker
A leader in the development of international standards
An advocate for the use of blockchain and skeptic as it relates to unstable cryptocurrencies
A thinker on the evolution of mobile payments
An advocate for a solution to digital identity based on verifiable credentials
Self Soviern is interesting
WebAuthn & FIDO should be a reality
1976-1991
I graduated from Emory University with an interest in finance, marketing, telecommunications, and computers.
While working at National Data Corporate, I received a 4-year degree in computer sciences and delved into the world of money transfer systems, cash management services, call center operations, and credit card billing systems.
The next step in my education – project management. 
I specializing in the design and integration of voice video and data into the trading rooms on Wall Street and the City of London. As a technologist, I focused on serving the needs of those trading securities, be they currencies, bonds, commodities, or stocks.
My next step "right-sizing" and further automation of trading processing ranging from order matching through international settlement.
1991-2012
While living in Europe, I shifted from capital markets to consumer payments. As a member of the management committee and Director of Information technology of Europay International, I focused on renewing technology, expanding markets, and developing new payment products.
The rise in card-related fraud and the need to manage risk led Europay, Mastercard, and Visa (EMV) to unite to define international standards.  The goal, upgrade the security of credit and debit payment cards.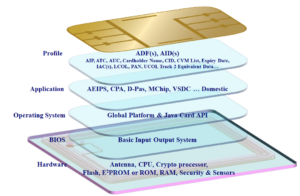 After publishing the EMV specifications, PA&A was formed.  I focused on offering executive and consulting services to entities such as Oracle, AT&T, IBM, GlobeID, Philips, Unicate, Unisource, NatWest, American Express, and Anderson Consulting.
2008-Present
Back in the USA, I shifted my focus to completing the work of implementing EMV.  First consulting to a major DIY store Lowes then off to American Express to globally manage EMV and then to Accenture as one of their global subject matter expert in the field of payments.
In 2011 the United States, the last developed economy, finally recognized it was time to secure 1.2 billion debit and credit cards.  As a subject matter expert at Oberthur now IDEMIA, my focus, drive the United States to embrace EMV.  Simultaneously I began working on establishing the standards for digital authentication.  As a member and Secretary of the Board of FIDO Alliance, my focus expanded to the wider concerns of authentication and digital identity.
A career on the leading edge of technology
Oct 2017 – Present PA&A – Consultant focused on mobile voting, distributed ledger, blockchain, digital payments, digital identity, cybersecurity, cryptocurrency, and innovation
Sea Island, GA
Independent Payment Consultant
When the role is to mediate can the role also be to instruct and define the process of evaluation or to simply report on their mutual participation is a review they conduct between themselves?
Remote Election Standards Development
https://gbaglobal.org/voting-resources
May 2013 – Sept 2017 – Oberthur Technology now IDEMIA – Evangelist promoting the use of EMV as a means of securing credit and debit cards
Atlanta, GA & an airplane
Sept 2013 – Sept 2017 – Secretary of the FIDO Alliance driving global standard for digital authentication
Atlanta, GA
Feb 2012 – May 2013 – Accenture – Subject matter expert in payment systems
London, England; Atlanta, GA; Houston TX
Jan 2011 – Jan 2012 – American Express – Global Product Manager & member of EMVCo
New York, NY
Jan 2004 – Dec 2010 PA&A – Advisor to merchants and financial institutions as they considered EMV deployment strategies
Toronto Canada then the East Coast of the USA
Sept 2002 – Nov 2003 – Visa Inc. – Vice President responsible to drive the board to embrace "EMV" chip smart cards and deploy 3D-Secure to secure card payments
Toronto, Canada
July 1996 – Aug 2002 – PA&A – Advisory, interim executive and strategic consultant to a variety of firms considering their role in payments and the use of cryptography as a means of authentication
La Hulpe, Belgium; St Paul, MN
June 1991 – June 1996 – Europay International Now MasterCard – management committee member focused on IT, strategy, security, and industry standards
Waterloo, Belgium
June 1990 – June 1991 – Smith New Court – Program Manager responsible for integrating voice, video, and digital services to serve capital market trading professionals
London, England
June 1987 – May 1990 – Shearson Lehman Hutton – Vice President Telecommunications – Right-sized the operation, reducing CAPEX, FTE, and OPEX by >25%
London, England
June 1986 – June 1987 –  Salomon Brothers – Vice President responsible for designing and implementing the technology for the largest London Security trading floor
London, England
Feb. 1982 – June 1986 – PA&A – Subject matter expert responsible to design and implement the data, voice and video technologies serving Wall Street trading rooms. Including Citibank, EF Hutton, Prudential Bache, Bank of Montreal, Chemical Bank, Bankers Trust
New York, NY
July 1980 – Feb. 1982 – Manufacturers Hanover Trust – Project analyst supporting the design and implementation of a network to interconnect all MHT offices & data centers
New York, NY
June 1976 – July 1980 – National Data Corporation– An on the job degree in the breadth of information & telecommunications technologies
Atlanta, GA